72% bitter-sweet dark chocolate
Sale price

RM 18.00

Regular price

RM 45.00
Free Delivery above RM50 within Klang Valley
Made with Premium Ingredients from Europe
100% Freshness Guaranteed
0 Added Sugar, 0 Cholesterol, 0 Preservatives
Share
Our best-selling dark chocolate ganache expresses the original outstanding flavor of cocoa that is crafted carefully with cacao beans from Europe. It is refined chocolate that highlights a balanced taste with an intense bitter cocoa and pleasant citrus, mild bitterness note that simply melts in your mouth! Perfect for everyone! Indulge the healthier way with our rich, balanced, and smooth bitter-sweet dark chocolates.

Taste profile: Bitter-sweet dark chocolates with a strong cocoa aroma.
-10°C or below
14 days in chiller (Our chocolates do not contain preservatives, please consume as soon as possible)
10 pcs (100g)
Ingredients: Couverture dark chocolate (cocoa mass, cocoa butter, sugar, emulsifier (soy lecithin), natural vanilla flavour), low fat milk (cow's milk).

All ingredients used to make this chocolate are Halal Certified.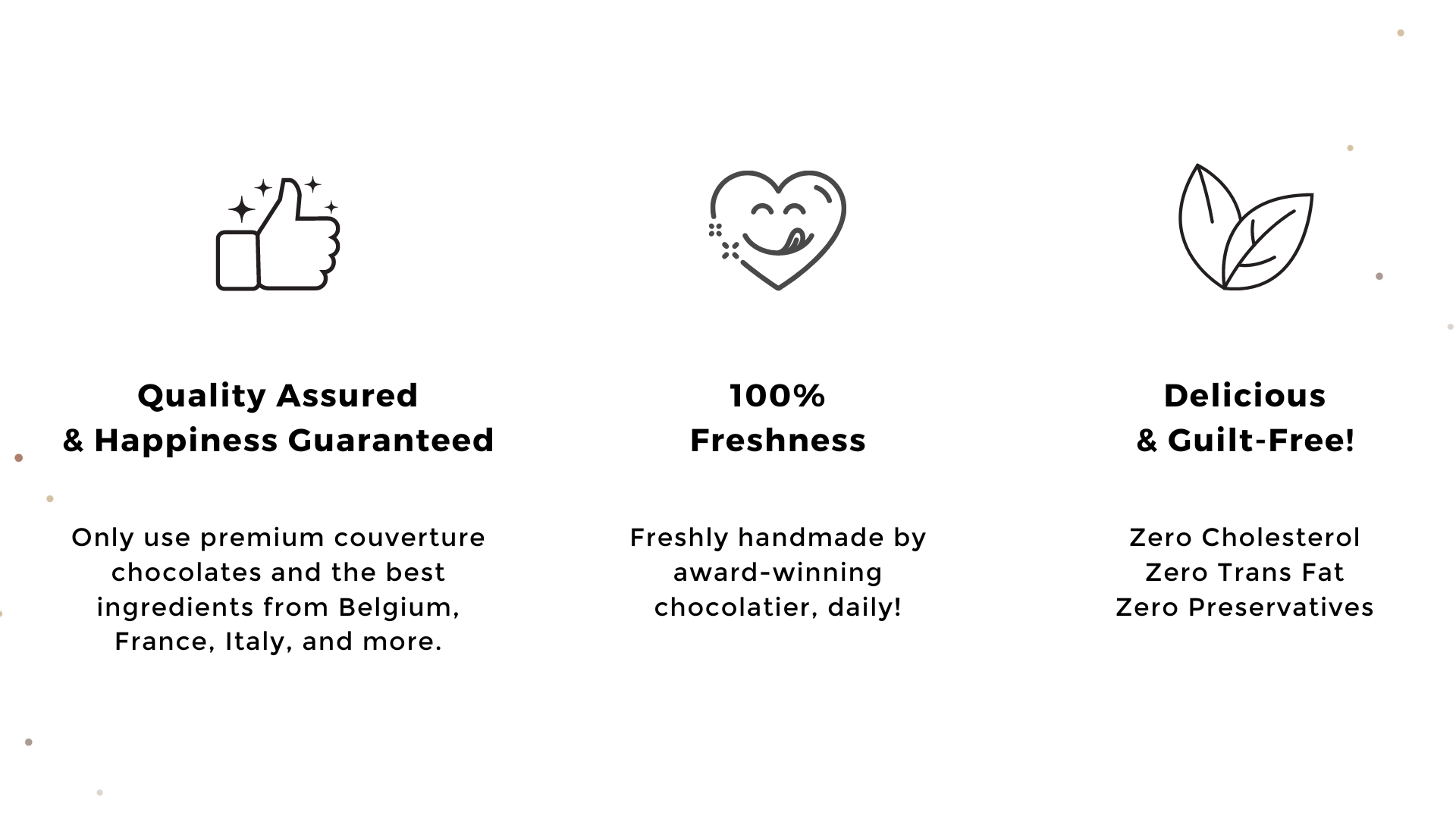 THE INSPIRATION
Once upon a time, there was a passionate chocolatier who lived a life full of ups and downs, just like the bittersweet taste of dark chocolate. Throughout their journey, they learned that life can be both bitter and sweet, just like their favorite ingredient.
One day, they decided to turn their challenges into something beautiful and create a line of bittersweet dark chocolates. Each piece was crafted with care, using only the finest ingredients and rich cocoa, to capture the essence of their journey.
These chocolates were designed to be an indulgent treat for those who appreciate the balance of sweet and bitter, just like the complexities of life. They were the perfect reminder that, despite the challenges we face, there is always a hint of sweetness to be found.
And so, each time someone took a bite of these bittersweet dark chocolates, they were transported on a journey of self-discovery and inspiration. This is a reminder to embrace the challenges of life and find the sweetness within.
For those who appreciate the finer things, these chocolates were more than just a treat, they were a symbol of resilience and perseverance, in the face of adversity. So, let the rich, bold flavor of bittersweet dark chocolate remind you that even the toughest times can be made sweeter.