Musang King Durian Dark
Sale price

RM 25.00

Regular price

RM 45.00
Free Delivery above RM50 within Klang Valley
Made with Premium Ingredients from Europe
100% Freshness Guaranteed
0 Added Sugar, 0 Cholesterol, 0 Preservatives
Share
THE DESCRIPTION
King of all fruits and the best you have ever tasted! It is a piece of confectionery with 100% Pure Musang King Durian flesh blended with our Belgian dark chocolate that will uniquely invade all your five senses. You can even smell the rich fragrance of Durian before you open the box! Sit back, relax, and let the flavours blow you away. Perfect for Durian Lovers! A must-try for everyone!
Taste profile: Authentic Musang King dark chocolates with strong durian aroma.
-10°C or below
14 days in chiller (Our chocolates does not contain preservatives, please consume as soon as possible)
10 pcs (100g)
Ingredients: Couverture dark chocolate 52% (cocoa mass, cocoa butter, sugar, emulsifier (soy lecithin), natural vanilla flavour), low fat milk 30% (cow's milk), musang king durian paste 15%.

All chocolates ingredients used to make this chocolates are Halal Certified.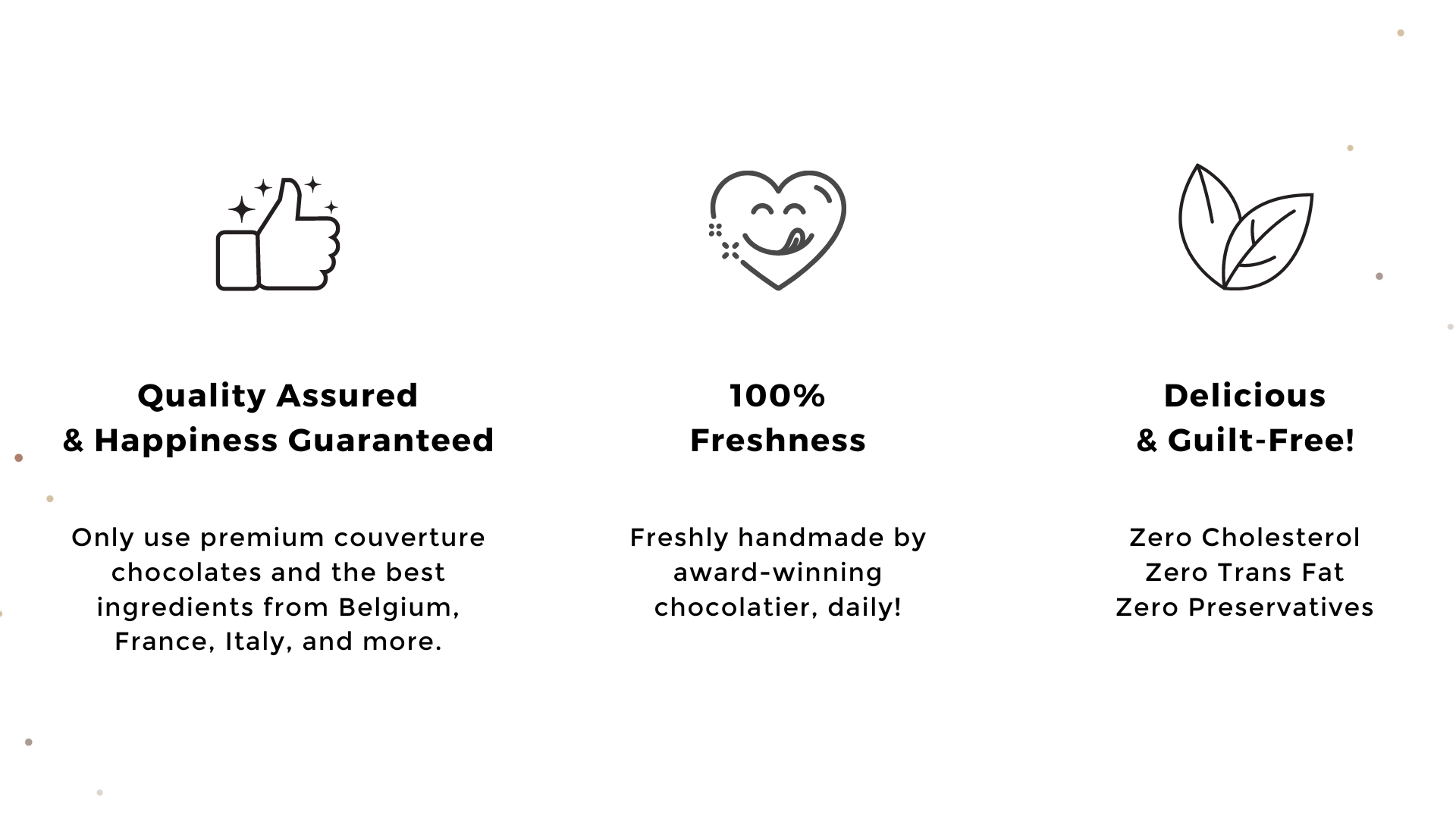 THE INSPIRATION
The durian is often referred to as the "King of Fruits" in Southeast Asia and it is known for its unique and pungent flavor. But behind its divisive scent, lies a fruit that embodies strength and courage. This is why the durian dark chocolate was created, to represent the indomitable spirit that lives within us all.
This chocolate is for those who are not afraid to take on challenges and face life head-on, no matter how difficult it may seem. The bitterness of the dark chocolate combined with the sweetness of the durian creates a harmonious balance, much like the ups and downs of life. The rich, creamy texture of the chocolate is a testament to the richness of life and how we can find joy even in the midst of adversity.
Each bite of this chocolate is a reminder to keep pushing forward, to never give up and to always have the courage to face life's challenges. The story of the durian dark chocolate is one of motivation, determination, and the indomitable human spirit. When you bite into this chocolate, you will be reminded that no matter what life throws at you, you have the strength within you to overcome it.
So take a bite of this chocolate and let its rich, creamy flavor inspire you to be your best self. And always remember, when life gives you lemons, make durian dark chocolate