Mint dark chocolate
Sale price

RM 18.00

Regular price

RM 45.00
Free Delivery above RM50 within Klang Valley
Made with Premium Ingredients from Europe
100% Freshness Guaranteed
0 Added Sugar, 0 Cholesterol, 0 Preservatives
Share
If you could not decide between minty sweetness and bittersweetness, our mint dark chocolate is your pick! Belgian dark chocolate is infused with peppermint for a refreshing flavor that swirls on your palate ending in a cool mint that finishes prolonged even after a long day! Perfect for everyone!

Taste profile: Semi-sweet dark chocolates with a strong mint aroma.
-10°C or below
14 days in chiller (Our chocolates do not contain preservatives, please consume as soon as possible)
10 pcs (100g)
Ingredients: Couverture dark chocolate 59% (cocoa mass, cocoa butter, sugar, emulsifier (soy lecithin), natural vanilla flavour), low fat milk 36% (cow's milk), mint emulco 5%.

All ingredients used to make this chocolate are Halal Certified.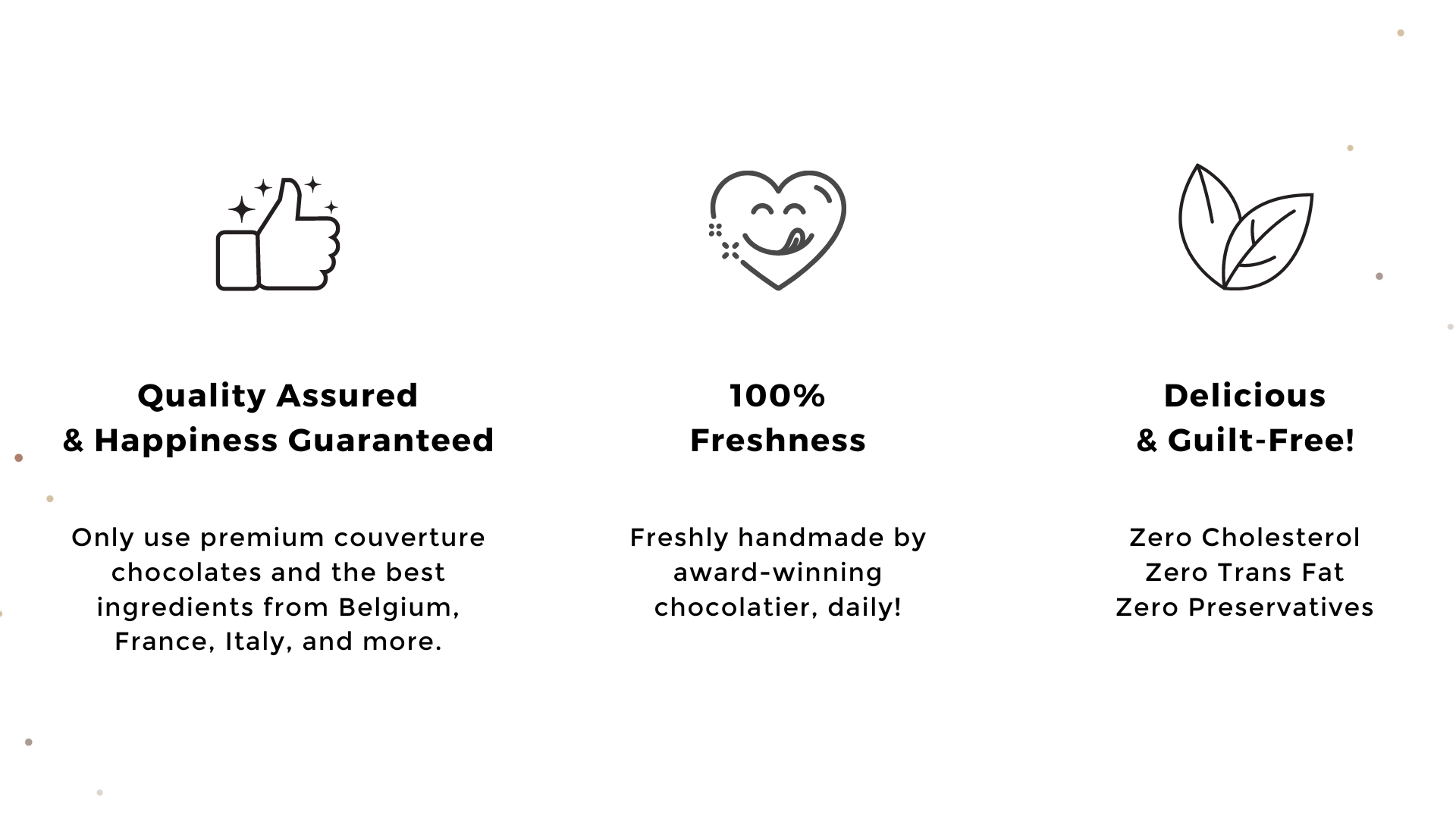 THE INSPIRATION
Introducing our Mint Dark Chocolate series, a reflection of the unwavering determination and resilience that lies within us all. This rich, indulgent chocolate has been infused with a crisp and refreshing mint flavor, making it the perfect indulgence for those looking for a sweet treat that inspires and motivates.
Inspired by the many individuals who have faced challenges in their lives and emerged stronger and more determined, our Mint Dark Chocolate series is a celebration of the human spirit. From the semi-sweet and creamy tasty dark chocolate, every bite of this chocolate is a reminder of the power we have to overcome adversity and bounce back from even the toughest of circumstances.
This chocolate is more than just a sweet treat – it's a symbol of the determination, resilience, and unyielding spirit that lives within us all. Whether you're looking for a little motivation to tackle a difficult task, or simply want to enjoy a delicious and inspiring treat, our Mint Dark Chocolate series is sure to satisfy. So go ahead and take a bite, and feel the rush of determination and inspiration that comes with every bite.