Mocha dark chocolate
Sale price

RM 18.00

Regular price

RM 45.00
Free Delivery above RM50 within Klang Valley
Made with Premium Ingredients from Europe
100% Freshness Guaranteed
0 Added Sugar, 0 Cholesterol, 0 Preservatives
Share
For the people who love coffee and chocolate! It has a bitter-sweet taste like chocolate but with the roasted qualities of a cup of coffee. The espresso flavour combines perfectly with chocolate giving you a mouthfeel of velvety smooth and deep luxurious taste.
Taste profile: Espresso-infused dark chocolates with a strong coffee aroma.
-10°C or below
14 days in chiller (Our chocolates do not contain preservatives, please consume as soon as possible)
10 pcs (100g)
Ingredients: Couverture dark chocolate 59% (cocoa mass, cocoa butter, sugar, emulsifier (soy lecithin), natural vanilla flavour), low fat milk 36% (cow's milk), mocha emulco 5%.

All chocolate ingredients used to make this chocolate are Halal Certified.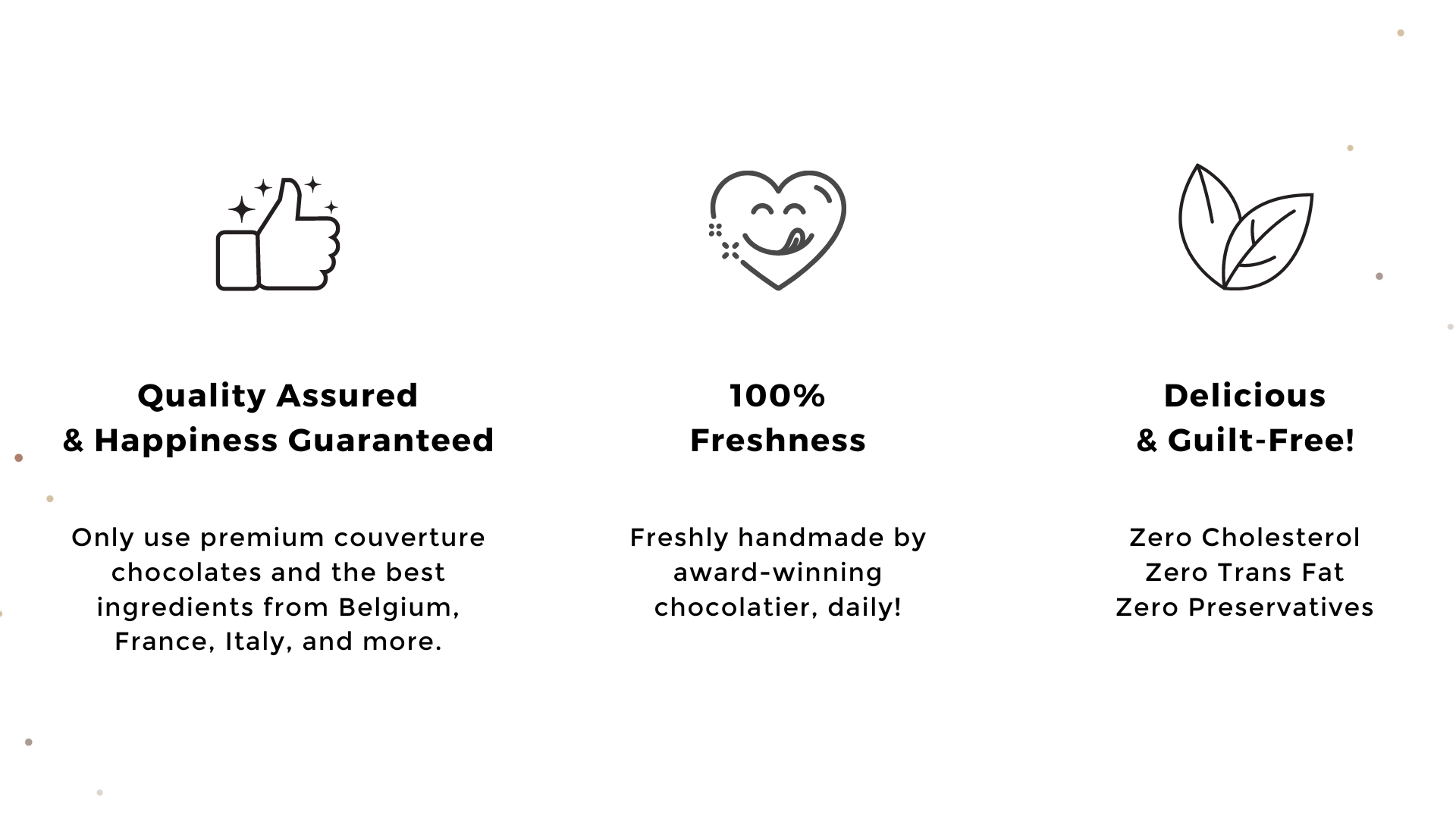 THE INSPIRATION
Mocha Dark Chocolates, a perfect indulgence for those seeking self-awakening. This unique blend of rich dark chocolate and bold coffee flavor takes you on a journey of self-discovery and enlightenment. Just like the bittersweet and intense taste of mocha, life can sometimes bring challenges that test our strength and willpower. But, through these struggles, we have the opportunity to awaken our inner wisdom and find a deeper connection to the world around us.
As you savor each bite, close your eyes and allow yourself to be transported to a peaceful place of mindfulness. The smooth and creamy texture of the chocolate will comfort you, while the robust flavor of the coffee will stimulate your senses and awaken your mind. Allow this moment to be a reminder of the power we possess within us to overcome any obstacle and find inner peace.
Take a moment to reflect on your journey, and remember that each challenge is an opportunity to grow and become a better version of yourself. Just as the chocolate is a blend of two distinct flavors, life is a balance of ups and downs. Embrace the journey, and know that with each challenge, comes growth and inner strength.
Mocha Dark Chocolates are not just a delicious treat, but a symbol of your resilience and determination. So take a moment to indulge, reflect, and awaken your inner wisdom. With every bite, remember that the rocky road in life is just a stepping stone to a greater understanding of self.